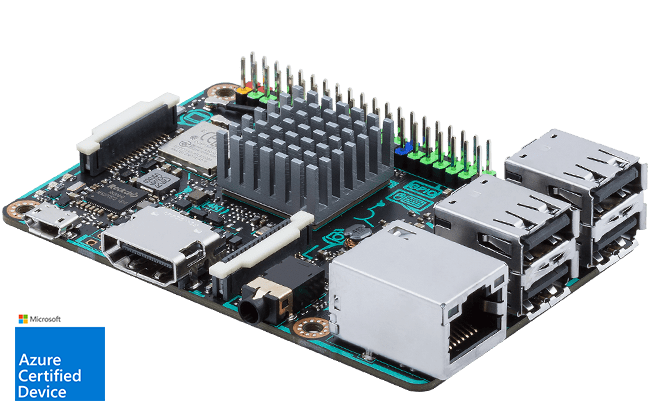 Tinker Board
ARM-based SBC with market-leading performance
Tinker Board is a Single Board Computer (SBC) in an ultra-small form factor that offers class-leading performance while leveraging outstanding mechanical compatibility. The Tinker Board offers makers, IoT enthusiasts, hobbyists, PC DIY enthusiasts and others a reliable and extremely capable platform for building and tinkering their ideas into reality.
Class-Leading Performance
With its powerful and modern quad-core ARM-based processor — the Rockchip RK3288 — Tinker Board offers significantly improved performance versus other popular SBC boards. Powered by an ARM-based Mali™-T764 GPU, Tinker Board's GPU and fixed-function processors allow for a wide range of uses, including high-quality media playback, gaming, computer vision, gesture recognition, image stabilization and processing, as well as computational photography and more.
* HD & UHD video playback at 30 fps on Tinker Board is currently only available via the included media player. Third-party video players and applications may not offer hardware acceleration, which will result in limited or unstable playback performance.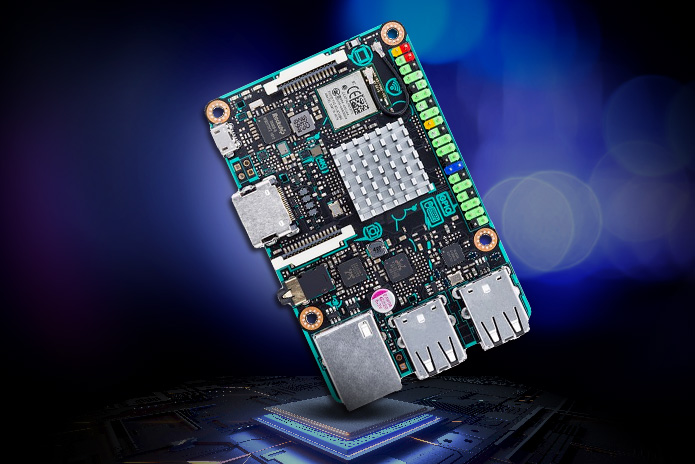 2GB LPDDR3
Dual-channel memory
QUAD-CORE
RK3288 Processor
HD / UHD
Playback support
HD Audio Quality
Tinker Board is equipped with an HD codec that supports up to 24-bit/192kHz audio. Its integrated audio jack supports audio output and a microphone in, without an extension module.
The audio jack also offers hassle-free plug-in detection so it automatically switches the audio output to an audio jack when the speaker or headset is connected.
24bit/192kHz
Audio support
Audio Jack
Integrated support
Maker-Friendly, with IoT Connectivity
Tinker Board features standard maker connectivity options, including a 40-pin GPIO interface that allow for interfacing with a range inputs. Tinker Board is equipped with one DSI MIPI connection for displays and touchscreens. The secondary CSI MIPI connection is for connection to compatible cameras allowing for computer vision, and much more.
Tinker Board also features Gbit LAN for Internet and network connectivity. A dedicated bus resource designed for the LAN port ensures consistent Ethernet performance. The integrated Wi-Fi and Bluetooth controller on the Tinker Board is shielded with a metal cover to ensure minimal interference and improved radio performance. An integrated IPEX antenna header allows for easy antenna replacement or upgrades.
Tinker Board also features a full-size HDMI output. Additionally, it includes four USB 2.0 ports for extensive peripheral and accessory connectivity.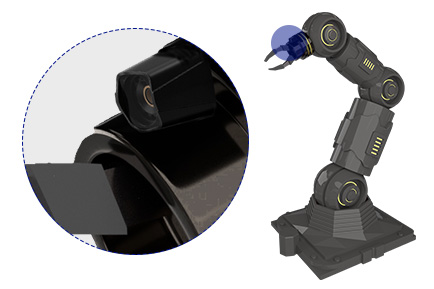 Careful consideration went into the design and development of the Tinker Board to ensure that it provides a superior user experience for first-time builders or for seasoned hobbyists. Builders will appreciate the color-coded GPIO header, which makes it easy to recognize respective pin headers.
The PCB dimensions and topology of the Tinker Board align with standard SBC boards, allowing support for a wide range of chassis and physical accessories. The PCB features silk-screening with a connection header and location callouts, for improved connection clarity. The onboard MIPI headers also feature color-coded pull tabs.
Tinker Board also includes a heatsink, which helps improve heat dissipation under heavy loading or in hot ambient environments.
* The SoC will start throttling when the Tj=70°C, additional thermal solution(e.g. larger heatsink or cooling fan) is suggested to ensure optimal system performance and stability.
Benchmark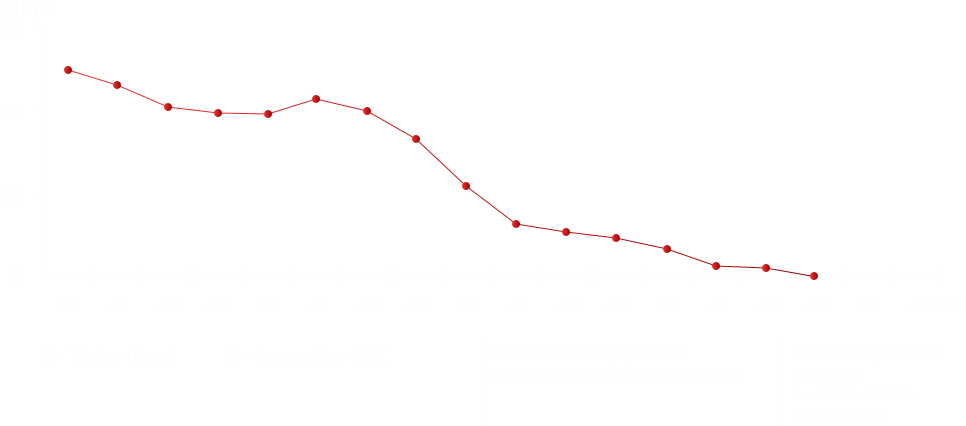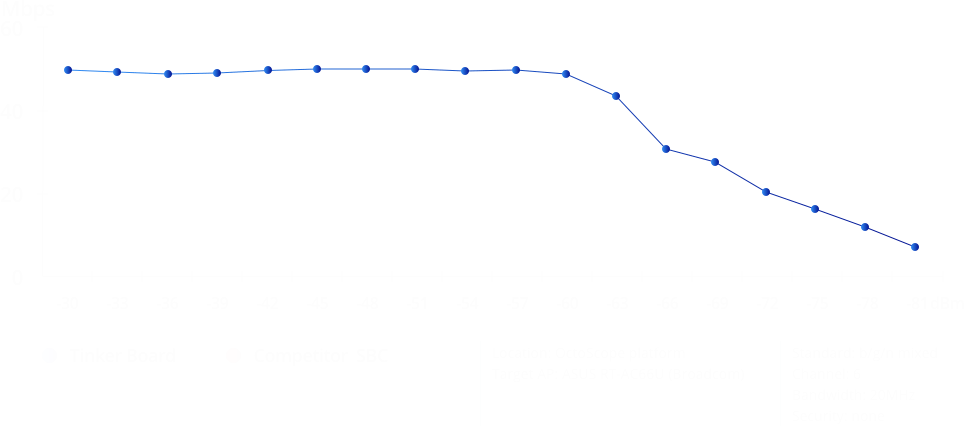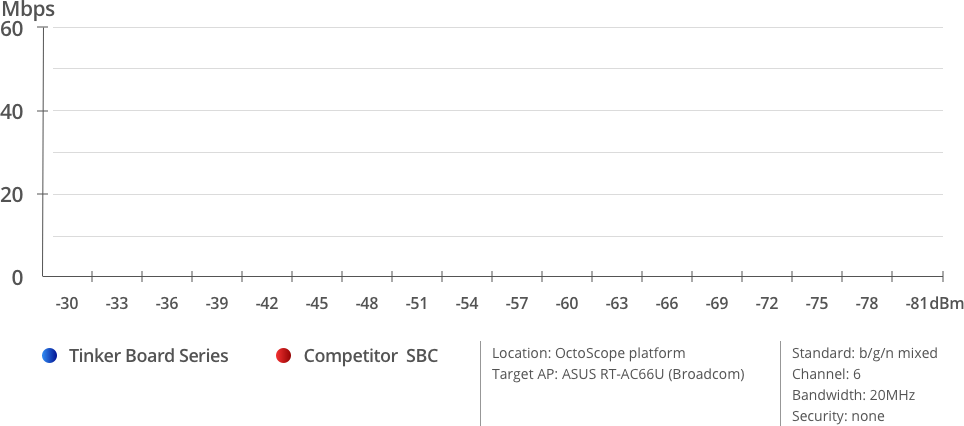 * Tinker Board - OS: Linux 4.4.0+ armv7l l Image Version: V20170113 l Memory Type: 2GB l CPU Type, Speed[GHz]: Cortex-A17 Quad-core 1.8GHz l GPU Type, Speed[MHz]: Mali™ T-764
* Competitor SBC - OS: Linux 4.4.11+ armv7l l Memory Type: 1GB l CPU Type, Speed[GHz]: Cortex-A53 Quad-core 1.2GHz l GPU Type, Speed[MHz]: VideoCore IV
Products certified by the Federal Communications Commission and Industry Canada will be distributed in the United States and Canada. Please visit https://tinker-board.asus.com/where-to-buy.html
All specifications are subject to change without notice. Please check with your supplier for exact offers. Products may not be available in all markets.
Specifications and features vary by model, and all images are illustrative.
Please refer to specification pages for full details.
PCB color and bundled software versions are subject to change without notice. Brand and product names mentioned are trademarks of their respective companies.